Exploring the Hudson Valley: Day Trips from Sleepy Hollow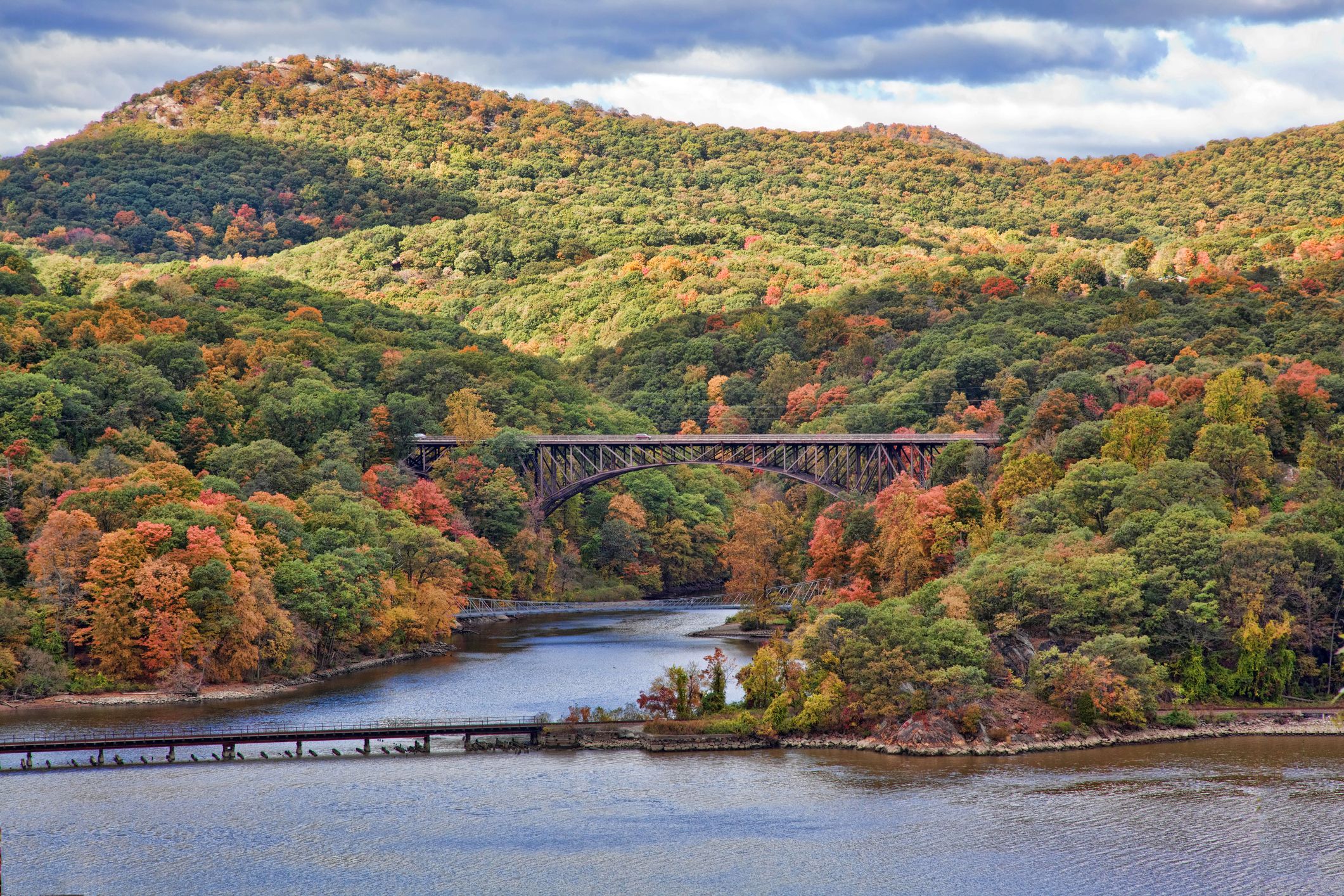 The bucolic Hudson Valley town of Sleepy Hollow is perfectly poised in between many Hudson Valley attractions, from natural parks to charming villages. Just a short train ride or drive outside of New York City, it's the perfect place for a summer or fall getaway. When you stay in Sleepy Hollow, all of the gorgeous Hudson Valley is at your feet.
When you're done exploring the many attractions Sleepy Hollow and nearby Tarrytown have to offer — or if you just need a change of pace — a day trip to another Hudson Valley destination is the way to go. A short car ride can transport you to some of the most magical attractions that New York State has to offer. Though the iconic Headless Horseman of Sleepy Hollow may be sad to see you go, even temporarily, a day trip provides an incredible opportunity to see the other incredible facets of the area.
Continue reading to discover six of the best day trips from Sleepy Hollow, complete with driving time from Sleepy Hollow Hotel.
Harriman State Park (25 min. drive)
The second-largest state park in New York, Harriman State Park exemplifies the sheer beauty of the Hudson Valley's natural landscape. It has 31 lakes and over 200 miles of trails; it is the perfect destination for the outdoor enthusiast, and anyone who wants to see the sprawling, pastoral charm of New York State's hills and meadows.
This massive state park is also known for its camping; other than that, it's just an incredible spot to walk, jog, bike, look for wildlife, or simply take in the sights.
Hudson Valley Museum of Contemporary Art (30 min. drive)
Known more familiarly as Hudson Valley MOCA, this renowned repository of contemporary art is dedicated to promoting an interdisciplinary understanding of the genre. The nonprofit Hudson Valley MOCA works with both local, regional, and international artists, with a special focus on the legacy of the famed Hudson River School of art and on public installations in nearby Peekskill.
Both an important community institution and home to 12,000 square feet of exhibition space that shares diverse, relevant, and regional perspectives, Hudson Valley MOCA is well worth the visit. It's open every Thursday and Saturday from 11:00am to 5:00pm, and tickets are $30.
Olana State Historic Site (1 hour 40 min. drive)
A little further north is the Olana State Historic Site, a Hudson River School masterpiece. An estate, museum, and preserved landscape, Olana was once home to Frederic Edwin Church, an American landscape painter known for his contributions to the Hudson River School of art. Olana is a fascinating mix of Persian, Victorian, and Moorish influences; it was completed in 1872, but Church had been painting landscapes from the site since as early as 1845.
Olana overlooks the distinct, picturesque Catskills. Its landscape was also designed in part by Frederick Law Olmsted, designer of Central Park and father of American landscape design. It is a stunning testament to the artistic eye of both Church and Olmsted.
Olana is open to visitors for a range of tours and other options, which you can explore here.
Falling Waters Preserve (1 hour 30 min. drive)
Perhaps after a visit to the Olana State Historic Site, you can head north again to Falling Waters Preserve, a spectacular natural landscape in Glasco. Lush waterfalls are scattered throughout the park, along with precarious rock ledges, a meadow with a panoramic view of the Catskills, and miles of nature trails. The park is also home to a historic ice house that harvested ice from the river to send down to New York City.
Falling Waters Preserve is open year-round from sunrise to sunset and it is free for everyone.
Opus 40 (1 hour 29 min. drive)
You can also pair your visit to Falling Waters Preserve with a stop at Opus 40, a beguiling environmental sculpture created over the course of decades. Set in a 57-acre park, Opus 40 is essentially an American Stonehenge, composed of large structures carved from the Hudson Valley's native bluestone. The area in Saugerties that is now Opus 40 was once covered with bluestone quarries; this longtime installation, created by artist Harvey Fite, leans into that history.
Its hours vary based on the season, and general admission tickets are $11. Find out more here.
From the lush waterfalls of Falling Waters Preserve to the fascinating sculptures of Opus 40, there's no shortage of things for you to enjoy during your stay in the Hudson Valley. No matter where you choose to go, Sleepy Hollow Hotel can serve as your home base. Book a luxury stay with us now!